TOPLINE: While President Biden was vacationing in Delaware, more than 15,000 migrants congregated under the Del Rio international bridge, waiting to be apprehended by U.S. Border Patrol. Over 1.2 million illegal immigrants have been captured by federal and state law enforcement officers this year. President Biden's far-left immigration policies have led to the catastrophe at our southern border.
Illegal Immigrants Are Taking Advantage of Biden's Open-Door Immigration Policies
The number of illegal immigrants entering the United States at the southern border is at a record 21-year high.
There were 208,887 apprehensions at the southern border in August. This is a 317 percent increase compared to August 2020, which saw 50,014 encounters, and a 233 percent increase over August 2019, with 62,707 encounters. Apprehensions traditionally decline during the summer months, but under the Biden Administration, they only increase.
More than 1,200,000 illegal immigrants have taken advantage of President Biden's open-door immigration policies since he assumed office in January 2021. When added together, the total number of illegal immigrants captured in 2021 surpasses the population of the tenth largest city in America.
The Washington Examiner reports that approximately 1.85 million illegal immigrants will be apprehended by federal and state law enforcement officials before the end of 2021, breaking the previous record of 1.64 million in 2000.
Why is the Biden Administration choosing far-left immigration policies over the safety and security of the American people?
There is Absolute Chaos at the U.S.-Mexico Border
This past weekend, tens of thousands of migrants formed makeshift camps under and around the bridge between Texas and Ciudad Acuña in northeastern Mexico.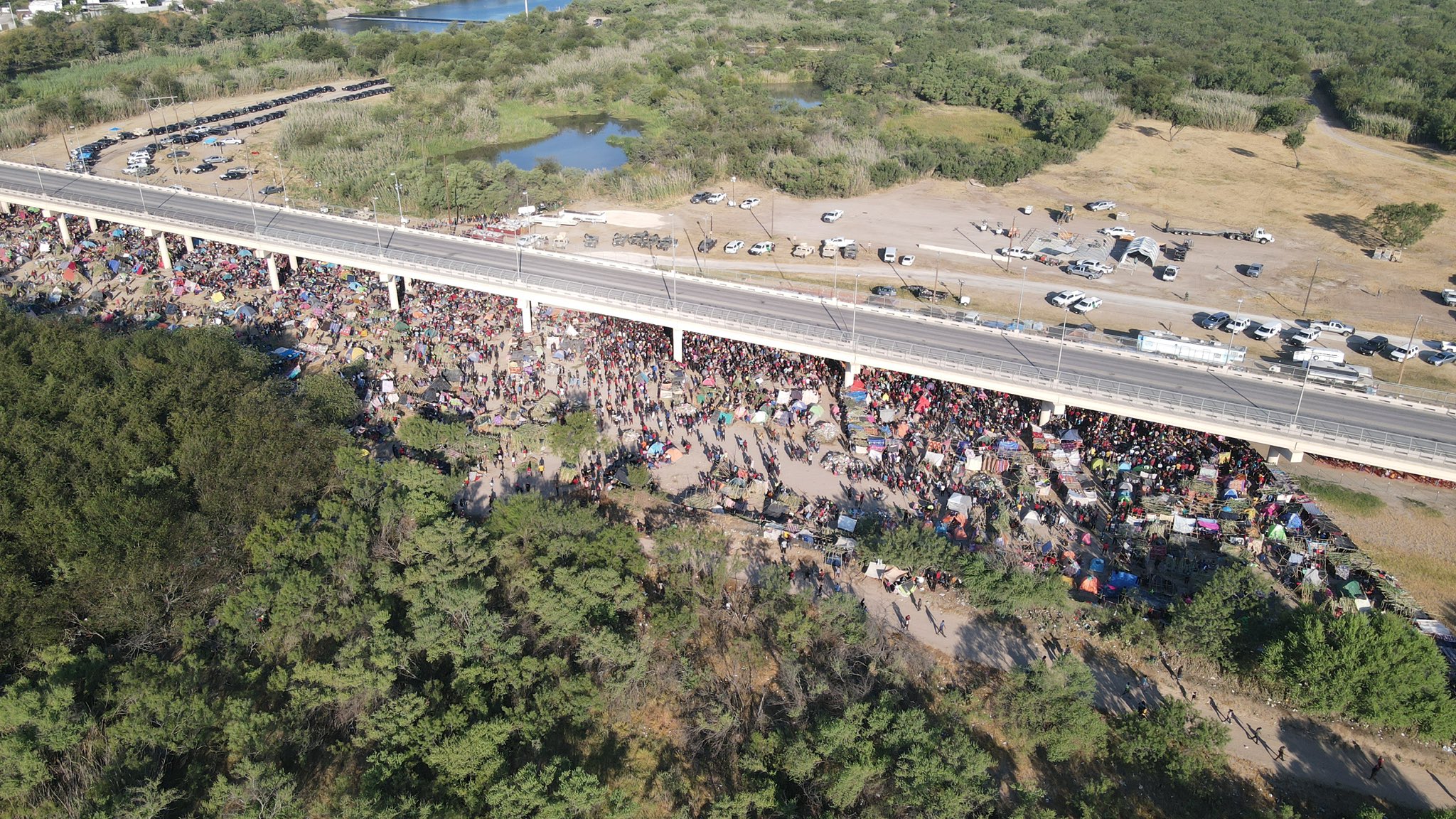 In response, United States sent a "surge" of 400 Border Patrol agents to the area to restore order and closed the legal Del Rio Port of Entry, shutting down regular cross-border traffic.
Approximately 15,000 Haitians and other migrants are trapped in inhumane conditions around the Del Rio International Bridge, without necessities. The migrants may be carrying COVID-19, and Border Patrol agents are overwhelmed.
Congressman August Pfluger, who went to see the humanitarian crisis in Del Rio, said the Biden Administration's response is not enough.
These migrants do not respect America's laws or our law enforcement officers. The Washington Examiner reports that Haitian migrants – who were being transported to San Antonio, Texas on a privately contracted bus – took control of the vehicle before escaping.
Ultimately, law enforcement captured the illegal immigrants who escaped from the bus.
The current border crisis only intensifies the threat from criminals, cartels, and drug smugglers.
So far, in Fiscal Year 2021, 9,728 individuals with criminal convictions have been arrested for attempting to illegally cross the border, compared to 2,438 in Fiscal Year 2020. This is a 299 percent increase.
U.S. Customs and Border Protection has seized more than twice as much fentanyl this year than in Fiscal Year 2020.
There is a Humanitarian and Public Health Crisis at the Southern Border
The Biden Administration's pro-amnesty immigration policies have created a surge in COVID-positive migrants unlawfully entering the United States.
COVID cases are rising in communities along the southern border and spreading to other parts of our country because President Biden and his Democrat allies in Congress refuse to reverse their liberal immigration policies, jeopardizing American citizens' health and safety.
COVID-positive migrants are being welcomed into the United States by the Biden Administration and then are being released into nearby border towns – putting these communities at risk.
President Biden wants to require that all international travelers entering the U.S. must be fully vaccinated – except if you're an illegal immigrant crossing the southern border.
When asked about why illegal immigrants coming across the southern border are not required to be vaccinated against COVID-19 or have proof that they tested negative for the coronavirus, White House Press Secretary Jen Psaki suggested that illegal immigrants are "not intending to stay here for a lengthy period of time."
This was disputed by Fox News' Bill Melugin, who has covered the migrant crisis in Del Rio and other parts of the border.
U.S. Department of Homeland Security Alejandro Mayorkas is insisting that the U.S.-Mexico border is closed to migrants. Clearly, the rest of the world is not taking Secretary Mayorkas' claim seriously.
The Biden Administration needs to show – not tell – the world that our border is closed.
BOTTOM LINE: The Biden Administration's pro-amnesty policies are causing hundreds of thousands of migrants, thousands of pounds of illicit drugs, and hundreds of criminals and sex offenders to unlawfully enter the United States. Illegal immigration is at a 21-year high because President Biden refuses to bring back President Trump's successful border security and immigration policies that kept the American people safe.